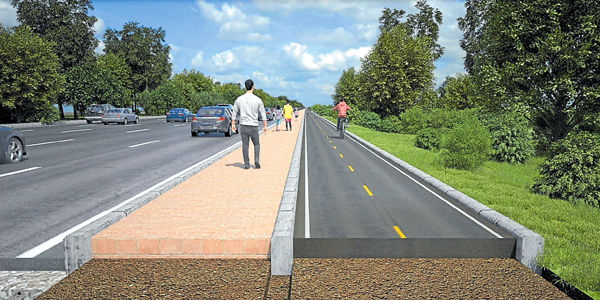 The National Infrastructure Agency (ANI) Monday choose between two firms, which get the award of the concession contract for public-private partnership (PPP) will handle decongest vehicular access to the north of Bogota. The work will be done with the extensions of the North freeway lanes, toll Los Andes to La Caro; and Carrera 7 245 Street to La Caro.
In this abbreviated selection process, which started last April, two companies finally bid for the award: the Pledge Colombian Society Futura Norte de Bogota SAS Access (Accenorte), formed by the companies Mincivil SA, Civilia SA, Integra Colombia SA, Universal Equipment Ofinsa Castro Tcherassi Inversiones SA and SA, and the signing of Spanish origin SA Copasa Works and Services, branch Colombia.
 The company that wins the contract not only be responsible for finance, make studies, designs, land management and environmental to carry out works to improve vehicular access to the north of the capital, but will have the concession of 53 km, in the two way, for 25 years.
At that time he will be responsible for the operation and maintenance sections, between Street 245 and the toll of the Andes, the North motorway to Briceno, and from the street 245, on Carrera 7 to Zipaquira.
The current concessionaire is the Temporary Union of Road Development North Bogota (Devinorte), whose concession expires on November 30, 2017.
According to the developments of the process are made by the PPP law, if there is no force majeure last minute to prevent the award today, society Accenorte (which until now operates as Devinorte) would be awarded this contract.
The possibility that Accenorte stay with the concession and works is because it was the originator project consortium and, by law, had the potential to improve the economic offer made Copasa, for which he initially earned a higher score on process.
Accenorte made the proposal to implement the project 854.402'696.688 pesos. Copasa introduced a lower value: 803.992'937.000 pesos.
As Accenorte could improve this offer, proposed by letter by 1,002 million pesos less , ie by 802 990 million, which achieved a higher score to win the award.
The works to be made to improve the entrances to the north of Bogotá are: the North Highway, Street 4,18 kilometers between 245 and La Caro will be extended from three to five lanes in both eastern and western carriageway;will build a bikeway and pedestrian bridges.
In the 7th race, 4.91 km street there 245 to La Caro would have a double parallel and road berms. They will Chía and Cajicá variants, while that of Hatogrande would be discarded.
Take from news EL TIEMPO